Welcome to Zouras Farm!
ZOURAS FARM, boasting 75 years of experience in the poultry industry (eggs, chicks and laying hens), is today the market leader in the sector.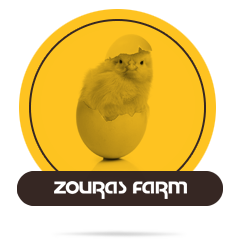 Our Story
The company's story begins in 1945, when brothers Triantafyllos and Dimitris Zouras lease a piece of land at Holargos and buy a few laying hens, offering "select new-laid eggs" to the neighbourhood.
the two brothers start up a farm in Metamorfossi, Attica.
In 1965 they transfer their activities to Kapandriti, Attica.
With constant investments, the company develops and modernizes. Dimitrios Zouras's sons, Kostas, Triantafyllos and Yannis, undertake the management of the company at the beginning of 1980.
Among our achievements has been the construction of parent stock farms, hatchery and rearing houses at Oinofita, Attica.
the decision to transfer the production and our Head Office to Alexandroupolis
Production and Head Office to Alexandroupolis.
Read More